Every enamel pin production begins with a request for quotation. This inquiry is from Chiko (her contact is https://gumroad.com/akihari_chiko and thanks for her approval of my using her product details freely). Requirements such as size, plating, posts and basic design are already clear. After a few email exchanges, all requirements are clear and a quotation is sent to her. She is happy with the cost and makes the payment.
After receiving payment, an artwork proof like this is sent out, details are shown. The design, the process: hard enamel or soft enamel, plating requirement, all Pantone solid color numbers, contents need to be printed, the back logo, also the back posts location, etc. After receiving her artwork approval, the production begins.

The artwork is first sent to an mold engraving machine for molds preparation. For each lapel pin, its front mold normally need 5-6 different size cutters to finish the engraving, which is a time consuming process. After finishing the engraving, the front mold looks like this. As this pin also has back logo, so back mold is also engraved.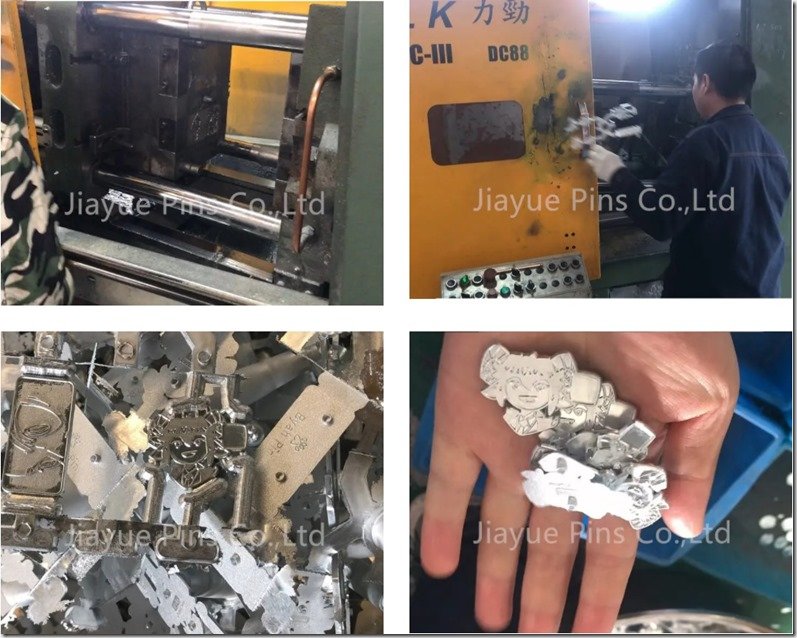 As this pin design has irregular shape, it is suitable to use zinc alloy material. For zinc alloy material pins, the pin shape forming process is achieved by a zinc alloy die-casting machine.
The front mold is put at one side of a zinc alloy die-casting machine, the back mold at the other side. When high temperature liquid-like zinc alloy is injected into the space between front and back molds under high pressure, then pin shape is formed.
After pins are cooled down, blank pins are separated and collected one by one. Now a new lapel pin is born:)
Then the pins edges are cleaned, burrs are eliminated for next step.

Next step is fix spur needles, or posts. On this machine, the spur needles are fixed on the back of pins. After this step, the pin looks like this.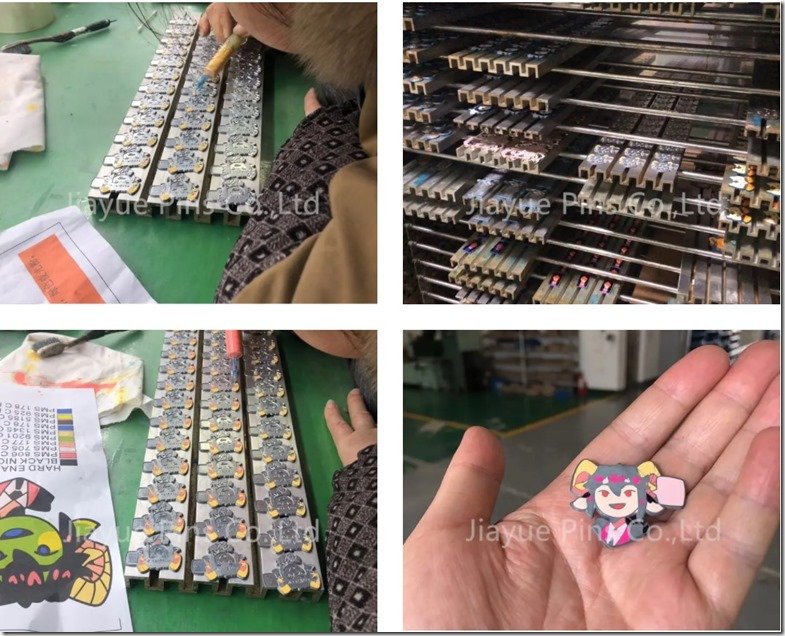 For hard enamel pin, the next step is colorizing, then plating and printing, then packing. For soft enamel pins, the next step is plating, then colorizing and printing, then packing.
Let's follow the hard enamel pin production steps. Next step, colorizing.
In order to avoid colors mix with each other, at one time, only one color can be put on the pin. After finish one color, pins are placed into an oven for more than 2 hours to make the first color dry. Then take out, place another color, placed into oven again for another 2 hours. This process repeats until all colors are there and dried. This is why lapel pin cost is higher when it has more colors. The more colors, the more labor force, more electricity, etc. are consumed.
After all colors are ready, the pins look like this above.
Then they are sent on a scouring wheel for initial cleaning. Then they are polished on the polishing wheel to make them shine.
After polishing, the pins are sent for plating. These pins are required to be black nickel plated, the general idea is putting pins into pools filled with black nickel liquid, then with the reaction of electrolysis, the positive ion of black nickel is attached on the surface of metal lapel pins. After plating, now these pins look like this above.

As this pin has two colors need screen printed, here is the screen printing process. After screen printing, now the hard enamel pins are almost ready.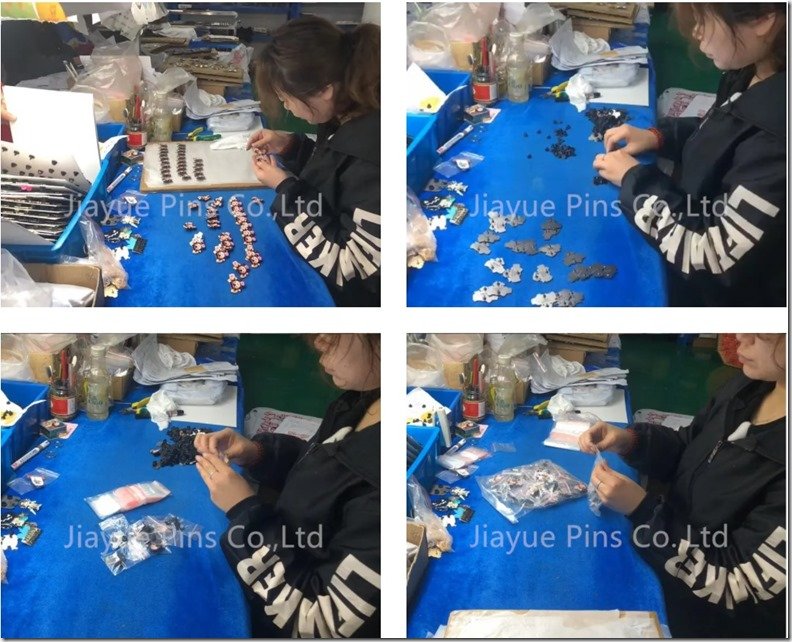 Next step is final quality check. After checking every pin has no problem, then clutches are attached and every pin is put into one OPP bag, then all pins placed into one bag and packed with protective film, then packed into a FedEx bag.

With FedEx delivery label printed, now these pins are to be picked up by FedEx and heading to customer.
Above is hard enamel pins production process.

For soft enamel pins, the process after posts fixing is plating. This time, black dyed metal is required, after plating, then colorizing, also need to get colors done one by one, drying them separately. After coloring,they look like this above.

As this pin is required to green glow in the dark, the process is dropping green glow glitter on the surface, then clean and dry it.(Actual process is not done one by one). As epoxy is required for these pins, which is covered after glittering process.
For soft enamel pins, as standard pin surface is not flat enough for screen printing, the epoxy covered surface is good for screen printing.

Then it is screen printing, after spring printing, pins production is almost done.
Then all pins are subject to quality check, then clutches attaching, packing, and delivery, same process as hard enamel pins process mentioned above.
This is the whole production process of standard hard and soft enamel pins in our factory. If you like it, welcome to share with your friends. More importantly, warmly welcome to click our onlineto ask for a quotation. Later after receiving the quotation and pins, you will know that a good factory is found.